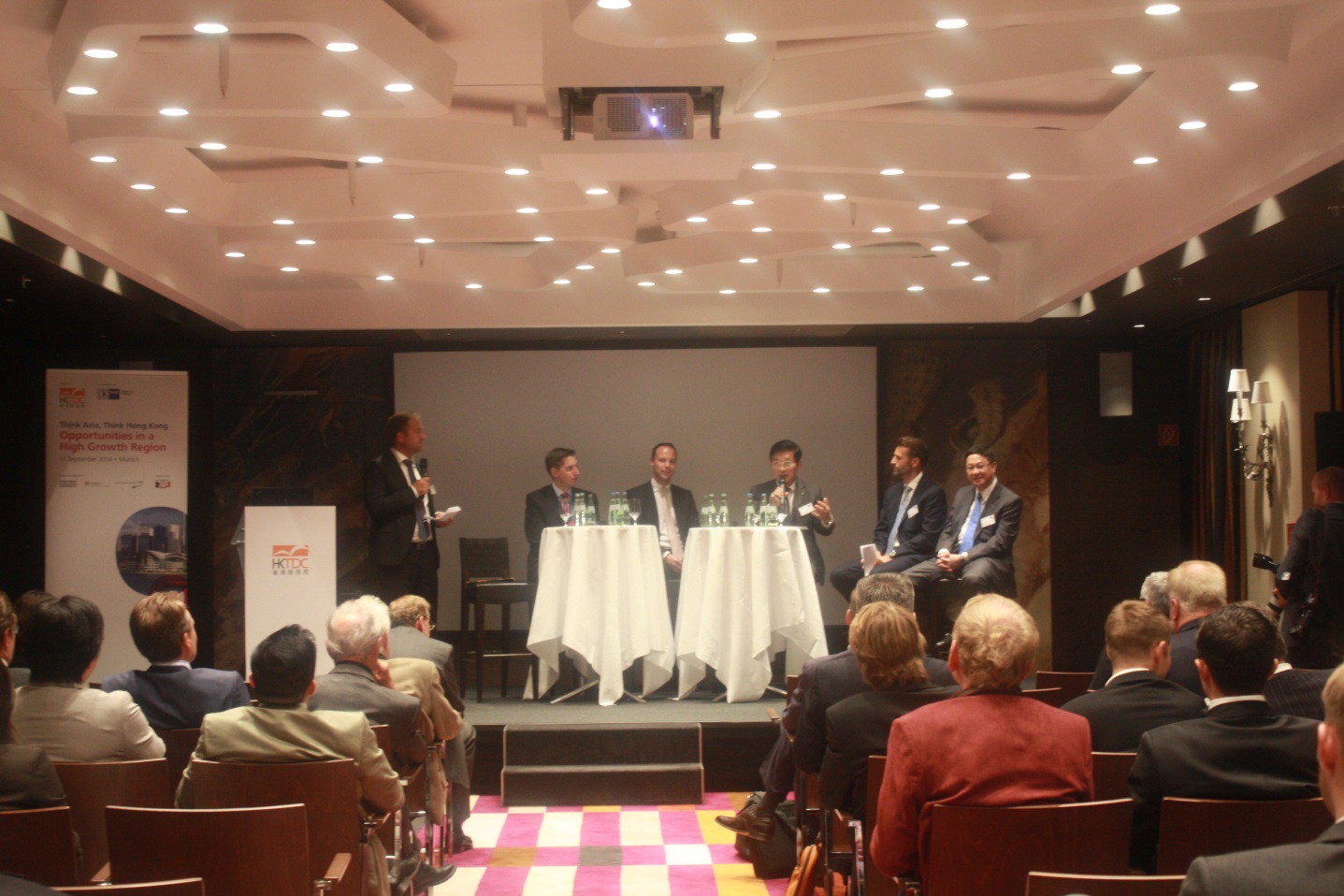 11th of September 2014, Munich. Under the theme 'Think Asia, Think Hong Kong: The Financial Hub for German Business', the event has attracted more than 100 participants from the fields of financial services, international business, R&D and academic sectors. As China's Global Financial Centre, Hong Kong not only owns the first and largest offshore Renminbi Investment Hub, leading fund management centre, but also a vibrant International bond market. As such, the event I further emphasizing the unique advantages of investing and doing business in Hong Kong.
Five distinguished guest speakers delivered their speeches during the event. William Chui, director of International Relations from Hong Kong Trade Development Council (HKTDC) emphasized  on the strategic position that Hong Kong has played for the expanding German Business in his speech, he also  called for special attention to the following issues which would bring huge business and investment potential to Bavarian business. Firstly, China's rapid-developing urbanization, secondly, the fast-growing middle class in China and last but not least, the R&D growth in the Chinese enterprises.
Another topic of this event was presented by He Guangbei,  the Vice Chairman and Chief Executive of Bank of China (Hong Kong), about  how German enterprises can benefit from Hong Kong as a Financial Place for Asia and the Offshore RMB Centre as well as RMB`s internationalization. He indicated that Hong Kong has the most well established offshore RMB Centre. The RMB's internationalization is an inevitable trend, the establishment of Frankfurt  offshore RMB centre is a notable example. Besides, Dr. Rüdiger Theiselmann, the chairman and managing director of Corporate Finance Association, also illustrated the high demand for RMB in the global business during his speech.  However, the question of when RMB would become the common currency and circulate freely around the globe is still under question. 5 years? 10 years? Or  15 years?